prof. dr. Bešter Rogač Marija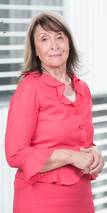 Department/Section: Katedra za fizikalno kemijo
Organisation: Fakulteta za kemijo in kemijsko tehnologijo , Večna pot 113 , 1000 Ljubljana
Office number: K3.027
Public hours: po dogovoru
Telephone: +386 1 479 8537
E-mail: marija.bester(at)fkkt.uni-lj.si
Bibliography: COBISS

Biography
Education and Qualifications
- Visiting professor in the frame of Giner de los Rios Program, University of Alcala, Spain, February 2016
- Postdoctoral research stay for 12 months (1994/95) with Prof. Josef Barthel, Institute of Physical and Theoretical Chemistry, University of Regensburg, sponsored by the Alexander von
Humboldt Foundation
- PhD degree, University of Ljubljana, 1988
- Master's degree, University of Ljubljana, 1983
- B. Sc.; University of Ljubljana, 1981

Work Experience
- Professor of Physical Chemistry, University of Ljubljana, 2008
- Associate Professor of Physical Chemistry, University of Ljubljana, 2002
- Assistant Professor of Physical Chemistry, University of Ljubljana, 1993
- Teaching Assistant, 1983

Research Interest
- Self-assembly colloidal systems
- Correlations between the structural features and thermodynamic properties
* Specific ion effects and micellization
* Interactions between drugs and surfactant systems
* Surface active ionic liquids
- Electrolyte and nonelectrolyte solutions
* Aqueous and non-aqueous solutions
* Thermodynamic and transport properties in solutions
* Association and solvation of ions
* Ionic liquids

Selected Recent Publications (see also COBISS or Google Scholar and Bibiliography)

-ČOBANOV, Isidora, ŠARAC, Bojan, MEDOŠ, Žiga, TOT, Aleksandar, VRANEŠ, Milan, GADŽURIĆ, Slobodan, BEŠTER-ROGAČ, Marija. Cation isomerism effect on micellization of pyridinium based surface-active ionic liquids. J. Mol. Liq., 2021, 337, 1-9, DOI: 10.1016/j.molliq.2021.116353
-APELBLAT, Alexander, VRANEŠ, Milan, GADŽURIĆ, Slobodan, BEŠTER-ROGAČ, Marija. Conductivity study with caffeinate anion - caffeic acid and its sodium and potassium salts. J. Mol. Liq.. 2020, 300, 112219, DOI: 10.1016/j.molliq.2019.112219
-MEDOŠ, Žiga, FRIESEN, Sergej, BUCHNER, Richard, BEŠTER-ROGAČ, Marija. Interplay between aggregation number, micelle charge and hydration of catanionic surfactants. PCCP. 2020, 22, 9998-10009, DOI: 10.1039/D0CP00877J.
-MEDOŠ, Žiga, BEŠTER-ROGAČ, Marija. Two-step micellization model : the case of long-chain carboxylates in water. Langmuir. 2017, 33, 7722-7731, DOI: 10.1021/acs.langmuir.7b01700.
BEŠTER-ROGAČ, Marija, FEDOTOVA, Marina V., KRUČININ, Sergej, KLÄHN, Marco. Mobility and association of ions in aqueous solutions : the case of imidazolium based ionic liquids. PCCP. 2016, 18, 28594-28605, DOI: 10.1039/C6CP05010G
Researcher ID S-3406-2018
ORCID 0000-0003-4284-5987
SCOPUS 6603389421

International Collaboration
- Bilateral project GAČR-ARRS N1-0186, principal investigator in Slovenia
- COST CA18202, member of MC, 2019-2023
- COST CA16109, member of MC, 2017-2021
- COST CM1206, member of MC, 2013-2017
- COST CM1101, member of MC, 2012-2016
- COST D43, member of MC, 2006-2011
- Principal investigator in bilateral projects: BI-FR/09-10-PROTEUS-012;
Russia-Slovenia (2014-2015; 2016-2018);
Serbia-Slovenia (2016-2017); Germany-Slovenia (2017-2019); USA-Slovenia (2018-2021)
- Informal collaborations (Ben Gurion University of the Negev, Israel;
University of Split, Croatia; University of Alcala,
Spain; Vienna University of Technology, , Austria)

Supervisions (stimulations of young people to the top-level scientific work)
- Supervision of doctoral theses (Tine Martin Perger, 2008; Nina Hauptman,
2010; Bojan Šarac, 2012; Ana Kroflič, 2013; Jure Gujt, 2015;
Žiga MedoŠ, 2019; isidora Čobanov, 2021)
- Opponent at more than 30 PhD theses
- Supervision of more than 80 diploma and master theses
- Supervising of the Maks Samec Award for PhD Theisis in 2021 (Isidora Čobanov)
- Supervision of the Student's Prešeren's Prize in 2000 (Matija Tomšič)
- Supervision of the Krka Award for PhD Thesis in 2015 (Jure Gujt) and Diploma Thesis in 2003 (Lucija Rus) and 2004 (Tanja Župec).

Professional Positions
- University of Ljubljana, member of the Ethics Committee, 2022-2025
-Slovenian Research Agency, member of the Scientific Research Council for Natural Sciences and Mathematics, 2021-2026
-Member of the Working Party on Ethics in Chemistry of the European Chemical Society, 2021-2025
-Member of the Evaluation Panel "Chemistry" of the Portuguese Public Funding Agency (FCT), 2021
-Member of the Formas Evaluation Panel "Environmental Pollutants" (Sweden), 2019-2020
- Member of the Committee of the Republic of Slovenia for the Awarding of Prizes and Recognitions for Excellence in Scientific Research and Development at the Ministry of Education, Science and Sports, 2020-2023.
-Member of the Steering Committee of the IUPAC Conference on Solution Chemistry, 2019-2025.
-University of Ljubljana, Faculty of Chemistry and Chemical Technology, member of the Commission for the Recognition of Foreign Educational Qualifications, 2018-2021.
-Chair of the 32nd European Conference of the Colloid and Interface Society, Ljubljana, Slovenia 2018.
- President of the Committee for Women in Science at the Ministry of Education,
Science and Sport 2014-2017
- University of Ljubljana, Faculty of Chemistry and Chemical Technology, member of the Commission for ECTN (2010, 2016)
- Vice Dean of the Faculty of Chemistry and Chemical Technology, 2009-2013
- University of Ljubljana, member of the Committee for Master's Studies, 2007 – 2009
- University of Ljubljana, Faculty of Chemistry and Chemical Technology, member of the Award Committee, 2005-2007
- Conference Secretary of the 29th IUPAC Conference on Solution Chemistry Portorož,
Slovenia, 2005
- Member of the Slovenian Chemical Society (Secretary 2017-2025)
- European Colloid & Interface Society member

Editorial Work
- Journal Molecular Liquids, Editor 2021-
- Editor "Študij kemije na Univerzi v Ljubljani: 1919-2019", ISBN 978-961-7078-07-7, Ljubljana, 2019
- Acta Chimica Slovenica Associate Editor 2004 – 2017
- Journal Molecular Liquids member of Editorial Board 2008 – 2021
- Guest Editor Journal Molecular Liquids 2007, vol. 131-132; Pure and Applied Chemistry 2006, vol. 78/ 8

Prizes and awards
- Congress Ambassador of the Republic of Slovenia for 2019
- Member of the European Academy of Sciences and Arts, 2018-
- Scholarship under the programme »Giner de los Rios« program at the University Alcala, Spain, 2016
- Maks Samec Award for popularisation of studies at the Faculty of Chemistry and Chemical Technology, University of Ljubljana, 2013
- Humboldt Scholarship Fund, Germany, 1994
- Student's Krka Award, 1978